Healthcare experts work around the clock to safeguard everyone's health and safety.
Although it is challenging to be error-free being a human, it is possible to reduce errors significantly.
Virtual Reality can claim the credit for the same.
According to 82% of healthcare experts, Virtual Reality in medical colleges is a truly remarkable, innovative, and convenient way to study. It's also an opportunity for medical students and practicing healthcare professionals to get a deeper look at complex settings.
Recent studies show that Healthcare is among the top 3 industries taking maximum benefit from Virtual Reality.
The use of Virtual Reality in medical colleges has increased without a doubt.
In 2021, there were 1.20 billion virtual reality users, with a forecast of 11.66 billion by 2028. With a CAGR of 38.3%, this is phenomenal growth.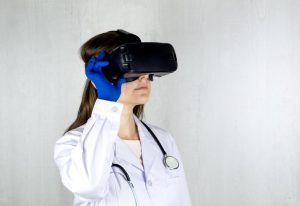 Some years back, World Health Organization (WHO) reported a global shortfall of more than 7 million healthcare workers. The research also stated that by 2035, the shortage might reach 13 million healthcare professionals. The lack and homogeneity of effective training programs worldwide are responsible for this shortfall.
Learning with Virtual Reality in medical Colleges is like a boon for healthcare sectors. That can effectively fill the gap. Let's discuss some benefits that prove the point more effectively.
Benefits of Virtual Reality in medical colleges
For a longer duration, video-based teaching has been adapted, but Virtual Reality provides a complete a 360-degree view as a new medium with expanded possibilities. A few areas of benefits are listed below.
Reduction in Stress and Anxiety
Although dealing with corpses and emergency situations is a necessary aspect of a doctor's profession, it can be unpleasant. This is a pretty common scenario among medical students and residents. It's not simple to deal with a traumatic circumstance. It's a step-by-step procedure that Virtual Reality can effectively imitate. It is a fully immersive experience that offers a one-of-a-kind training solution.
It's no surprise that medical interns and nurses see 58 percentages and 68 percentages reduction in anxiety, respectively. Recipients of Virtual Reality-based medical training claim improved anatomical position learning and shorter operation times.
Help to develop empathy
Virtual Reality's significant benefit is that it allows users to experience any situation from any angle. There are a variety of patients with distinct alignments who require different therapy and empathy. A patient with Alzheimer's disease or a victim of mental abuse, for example, both require empathy, albeit at different levels.
Doctors and nurses must have more tremendous patience while dealing with elderly patients. Immersive VR training is a helpful teaching tool for medical students who want to develop empathy for such patients.
Improved Skills and speed in an operating room
There is an improvement in skill speed and mobility in the operation room.
There is a significant distinction between theory and practice. Even in the absence of professors, Virtual Reality technologies allow students to acquire actual surgical concepts. Medical instruction is more accessible and adaptable thanks to Virtual Reality technologies. Medical experts can utilize Virtual Reality to visualize the human body's interior and learn more about human anatomy.
According to some published studies that residents should be trained using simulation technologies before using the real-life patient intervention. In the operating room, Virtual Reality produces a realistic environment. This activity assists the surgeon in developing practical skills, knowledge, and competency. The major benefit of this technique is, it involves no risk of life and high efficiency.
Patient Education and awareness
One of the critical advantages of Virtual Reality is that it is beneficial to both medical practitioners and patients. Clinical professionals can use simulated environments to direct the impact of corrupt lifestyle habits and backing individuals in preparing for any major surgery.
Fear of surgery, is prevalent among surgical patients. According to experts, uncertainty – a lack of understanding of what will happen before and after the procedure – is one of the sources of concern.
During a doctor's visit, children are more likely to experience anxiousness. To deal with such a predicament, professionals at a well-known hospital employ Virtual Reality (VR) to divert children's attention away from medical operations. Their findings are fascinating: lower anxiety levels, and parents and doctors report a more effective treatment and recovery process.
Patients who are critically ill or in hospitals can utilize Virtual Reality headgears to meet and communicate with family members. This practice will help the patient to overcome homesickness.
Conclusion
Mark Zuckerberg said once – Virtual Reality was once the dream of science fiction. But the internet was also once a dream, and so were computers and smartphones. The future is coming.
Virtual Reality is no longer a thing of the future. It is evolving and changing the world around. Healthcare is not an exception and embraced the future with Virtual Reality.
It has an enormous impact on Medical training. Compared to traditionally taught peers, surgeons who used Virtual Reality in medical Colleges reported a more than 200 percentage increase in total performance.
Also Read: Benefits of virtual reality in education
Virtual Reality is like a magic wand that assists medical professionals and helps patients reduce pain and anxiety, and speed up recovery.
You can also be benefited from this magic wand and contact IXR Labs if you have any questions.