Business
What Makes Investing In A Zocdoc Clone App Development?
Zocdoc Clone App Development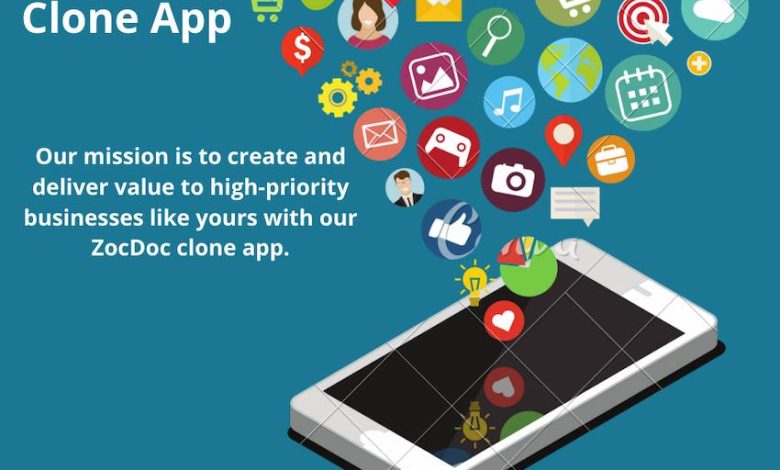 Believe it or not, the healthcare industry is still very much in the beginning stages of becoming more digitally based. The COVID-19 pandemic is proof that the sector needs to be rebuilt, but not in the traditional sense. Instead, it needs to be done digitally. Patients find it hard to wait for hours for doctor appointments in this fast-paced world.
Doctor appointments aren't the only thing that people should be able to have on their phones. With the help of modern technology, making an app for doctor appointments is a piece of cake.
Some apps in the healthcare field, like Zocdoc, Practo, and so on, have already been well-received. According to a recent survey, almost 42% of people feel more comfortable booking appointments online than by phone or in person. During this blog, we'll talk about the doctor appointment apps market as well as some good ideas for making a Zocdoc Clone app.
Patients are in need of doctor appointment booking apps 
Facts and stats show that doctor scheduling apps are a must-have. Let's take a quick look.
Almost two-thirds of Americans check online reviews before going to see a doctor (Source: Software Advice).

The value of the online doctor scheduling market now stands at $3.2 billion, which is a lot (Source: Projections by Accenture).

Most of the USA's health care systems will be able to make online doctor appointments (Source: Projections by Accenture).

People in their 20s and 30s are more likely than older people to prefer to make online appointments and get digital reminders instead of getting phone calls (Source: Survey by PatientPop).

Primary care providers see an average no-show rate of 23% to 34%, which means a lot of money is lost (Source: American Journal of Medicine).

These facts show that more and more people are using online doctor appointment apps.
Digitization of the system can have a lot of benefits.
When it comes to setting up appointments, people on both ends of the spectrum can find it hard. The administrative staff needs to keep a perfect record of all the data, which is very hard. As the economy goes down, the efficiency of the business goes down as well. Doctor appointment booking apps are good for both healthcare providers and patients in a number of ways.
There are no long lines:
All patients have to do is use the app to book appointments, wait for confirmation, and get the information they need about the appointments. They don't have to wait for a long time or call the staff on the phone. They don't have to do this.
People can get around a lot.
As long as people want a wide range of options for every service, you can't expect them to choose the only practitioner who is open. With an app, people can look up different types of practitioners, figure out which ones are best for them, and book appointments with them quickly and easily.
It's now easy to store data: From the point of view of healthcare providers, the administrative staff's role has been significantly cut back. A place where they can see all their appointments. This makes the process easier and faster.
24 hours a day:
It's time for health care services to work around the clock. When appointments are made by hand, there's always a limit on how long people can work. However, with the help of the internet, patients can book appointments at any time of the day, even if they live far away.
Features that can enhance the overall app experience 
The Zocdoc clone app needs to have the best possible integration of features when you make it. It is your ideas that get turned into important features that make the user experience better. Some of the most important features of the app are:
Options for advanced filtering:
Users should be able to choose which doctors they want to see based on their specialization, availability, fees, and more. This way, they can quickly and efficiently find the best people for the job.
Make, cancel, or change appointments:
From a wide range of practitioners and their time slots, users can pick the one that fits their needs. It is up to them to make and cancel appointments based on what they want to do. Besides, the app should also be able to change the scheduled date. This is a big help to patients because it makes their lives easier.
It is important to sync your calendars:
People who have a lot on their plate are more likely to forget their appointments. For people who use the app, syncing their calendars with the app makes sure they know about their appointments well in advance.
In-app chat and call options:
The app should have an in-app chat or call feature so that users can get answers to their questions right away. In this way, the app makes it easier for patients and health care providers to communicate with each other.
Multiple ways to pay:
A wide range of payment options are available to users, including credit and debit cards, digital wallets, net banking, and so on, so they can pay for their consultations with ease. Even this little thing makes things easier for people.
Wrapping up, 
Your app could be the next big thing in the healthcare field! With more people booking things online, introducing a doctor appointment booking app can be both beneficial and profitable. The Zocdoc clone has unique advantages for both users and service providers. Adding unique features can make your app stand out from the rest of the apps out there. With so many ways to make money, don't be afraid to invest in this high-quality Zocdoc Clone app development.