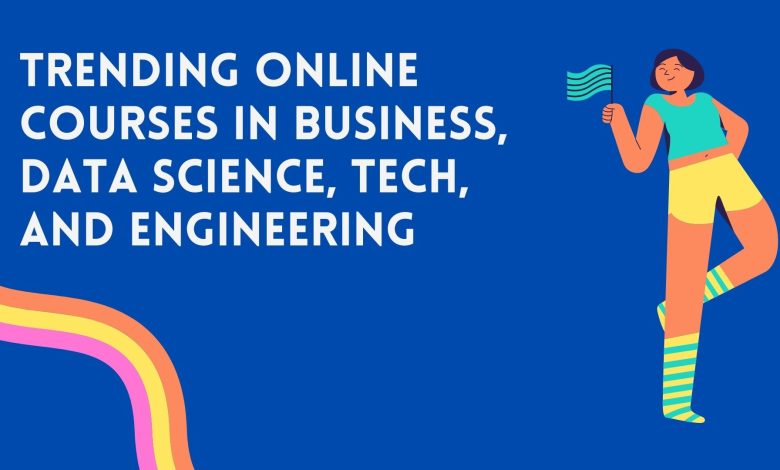 Our professional life can be enhanced by taking courses that are designed to do so. In recent years, there has been a tremendous change in the education sector. With the inventions and discoveries of new technologies from time to time, the world has been moving far faster than it ever has. We will be falling behind if we fail to keep up with the newest industry skills. Easy to learn through online tutoring. After all, finishing a degree does not guarantee a good job. The times have certainly changed.
Adaptability is the key to standing out from the crowd, so we must constantly upskill ourselves. Technology is a constantly changing field, so we have to keep up with this trend. As the market for technology continues to grow, more efficient software and applications are becoming available for customers that are quicker and more cost-effective. Increasingly, businesses and enterprises also have an online presence with more people moving towards the digital realm.
Trending online courses in business, data science, tech, and engineering:
1) Full Stack Developer
In the banking, financial services, and insurance industries, customers expect their firms. To be more than just physical places where money can safely exchanged. Increasingly, we see mobile banking as an alternative to physical banking. Many fintech start-ups and new banks are replacing incumbents and taking advantage of mobility to address consumer needs directly.
Currently, India has over 500 million smartphones and 687 million internet users. Making it one of the largest digital economies in the world. Now, banks and insurance companies have to keep up with this digital transformation. Become virtual companies that help their clients do business. As a result of Covid-19's virtual, cashless transactions, the decline of in-branch banking is increasing. Which shows how important the digital world is.
With all the major sectors moving to the virtual world. Including payments and cards, wealth management, retail banking, and credit unions. It's no surprise that the entire sector is undergoing a technological revolution. To simplify their operations, banks have digitized most of their activities and moved their data and infrastructure to the cloud. A company seeks developers who can work on both the front and back ends of a website. So that they can skilled in all aspects of a website/application.
Additionally, we are also aware of the fact that the internet is filled with various websites. Therefore, it is necessary for the developer to master both the front end and the back end. Considering the present requirements. The process used to be different in the past. Now they report to the same person who has responsibility for the front end and the back end. The key to standing out in a crowd or in a competitive environment is to be a technical genius in your field. An analysis of the international rate of individuals that have updated themselves on full-stack has shown that there is a significant number.
To excel in this domain, about 70 percent of professional developers know javascript. It is helpful to begin learning HTML, CSS, and JavaScript. Once one is familiar with these basics, one can move on to either REACT or ANGULAR. Thus we can say that we have our basics firmly in place for front-end, and our back-end requirements include learning at least one database and one programming language such as C++, Java, Python, or NODE JS.
Developers who become full-stack are becoming more and more common as the front-end and the back-end blur. Previously known as web developers and web designers, full-stack developers combine both skills and roles. During the process of designing the site, the web designer focuses on the User Interface (UI), while the web developer takes care of the code. Since the web became more complex, customers sought more complex solutions, resulting in two roles that became so specialized and technical that they became intertwined, which led to full-stack web development.
2) Deep Learning, Artificial Intelligence, and Machine Learning
Automation tools rely on machine learning, making machine learning engineers highly in demand. "Machine learning is the determinant of any company's future success, according to Brandon Purell, the Senior Analyst at Forrester Research. Our day-to-day lives can be enhanced with AI if we take a quick look at the technology landscape. Smart speakers that use voice assistants to make coffee can become the mainstay of everyday life as they power these technologies. As a result, job opportunities associated with machine learning and artificial intelligence have grown.
For forward-looking technology professionals, computer vision offers opportunities to explore many of today's most enjoyable careers. Artificial intelligence explains what this term means. It makes computers capable of performing some tasks that would normally require human intelligence. Two fields of Artificial Intelligence are Machine Learning and Deep Learning. Almost every career option is available in this domain, and many believe that this is the most important technology of the future.
Learning from top subject matter experts and industry professionals from various universities provides an excellent starting point for one's journey. It is now expected that a master's or a postgraduate degree program such as one in Artificial Intelligence, Machine Learning, or Data Science will be offered.
Data and information are becoming increasingly valuable due to digital advancements. Data gives us more predictability, so we can make more accurate predictions. Many roles and opportunities are available in this field, such as Data Scientist, Data Engineer, and Data Analyst. The best thing about this field is that it is highly entertaining and interesting to explore.
3. Cloud Computing
Currently, cloud computing is one of the most in-demand niches by students and professionals because of the high demand in the marketplace. How? Cloud computing is becoming increasingly popular among enterprise and small- and medium-sized businesses. Additionally, the number of qualified and licensed cloud computing professionals is on the rise.
Professionals with cloud computing certifications are sought after by top recruiters and HR managers because they have the potential to gain an edge in their respective organizations. Among their competitors, they serve as a market leader due to their expertise in cloud computing.
It's highly secure, so corporations can save a lot of money, and it's one of the hottest trends today. Since the organization won't have to spend money on storage facilities and servers, it will be more cost-effective. It is very expensive to store and maintain servers. Since cloud computing uses the concept of on-demand availability of computing system resources – a corporation can utilize the saved money on other resources that might not be replaced with cloud computers or similar concepts. This model works on the basis of pay peruse.
As we can see from the above information, cloud computing is finding a great deal of application in a wide range of companies. Healthcare, finance, education, manufacturing, automotive, space exploration, robotics, and many other industries are adopting cloud computing concepts.
4. Digital Marketing
The number of opportunities in various fields is also increasing as the world sees more and more technological advancements. As a result, the digital world has opened several doors for people to find employment. A good example of one of these fields is digital marketing. Nowadays, marketers are very interested in marketing their brands and companies online. Since the turn of the century, internet usage has doubled. Using digital channels like social media, websites, email, and mobile applications, digital marketing aims to promote or market a particular business or brand.
Adwords, Search Engine Optimization, Content Marketing, Mobile Marketing, Social Media Marketing are all key elements of pay-per-click marketing. By increasing the ranking of a business in Google search results, SEO will increase the number of visitors to the business' website. By analyzing the words and phrases consumers use to find information online, SEO marketers tailor their content to include those terms. We can start with the digital marketing certificate course to get an overview of this field, which doesn't need a lot of technical knowledge to get started.
5. Cybersecurity
Digital advancements have led to the idea that effective data security is equally important with the advent of the digital age. As such, there has never been a decrease in the demand for cybersecurity professionals. Among the fastest-growing careers, cybersecurity offers a wide range of both professional and financial rewards. Especially in the upcoming months, it is likely that security professionals will continue to be in great demand, as cybersecurity is a field in high demand.
Among the few roles that fall under the category of Cyber Security, we find Blockchain Developers, Ethical Hackers, Network Engineers, and Cyber Security Consultants. One of the greatest benefits of networking courses in Cisco is that they are free. Furthermore, companies have invested enormous sums of money in the field of data security, but still, many end up losing their most sensitive data due to cyber attacks. High demand for skilled Cyber Security professionals is currently in place, however, there are only a few of these people in the world.
Get your skills up to speed by learning top certification courses and completing assignments on time through online homework help websites from top industry professionals.