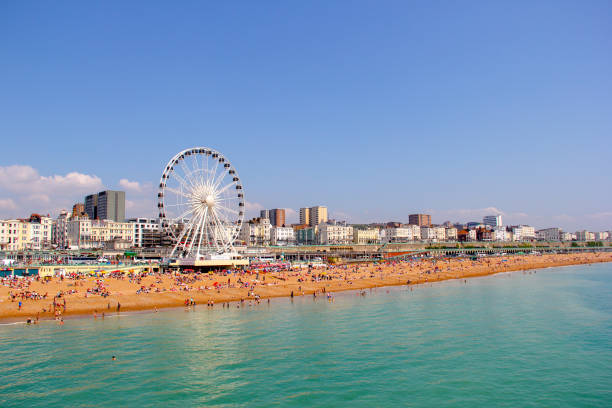 Brighton is a seaside resort town on the south coast of England, within the county of East Sussex. It is located about 47 miles south of London and is a popular tourist destination. Brighton is known for its lively nightlife, diverse population, and stunning architecture. The town also has a large student population living in several student accommodation located near the University of Brighton, University of Sussex, Greater Brighton Metropolitan College, and Bellerbys College.
With its lively atmosphere and abundance of things to do, it is no wonder that Brighton is a popular destination for students.  There are a lot of tourist attractions, restaurants, malls, pubs, clubs, student accommodation and so much for the students while staying in this beautiful city.
Top 6 attractions for students in Brighton
Here are six of the top attractions for students in Brighton that you must visit :
1. The Royal Pavilion and the Pavilion Gardens :
For a touch of history and a dose of culture, the Royal Pavilion and the Pavilion Gardens are a must-visit. The former seaside residence of King George IV, the Royal Pavilion is now a museum and art gallery. The building is an exotic blend of oriental decor and Indian Mogul Style architecture. Located in the heart of Brighton, the Pavillion Gardens were once the pleasure grounds for royalty and are now open to the public. They're perfect for a leisurely stroll or a picnic lunch. It was completed in three stages between 1787 and 1820 as a seaside retreat for George, Prince of Wales (later King George IV), who became the Prince Regent in 1811 and King George IV in 1820. With over 120 decorative works of art,  the Pavilion is on display at the Royal Pavilion.
2. Booth Museum of Natural History:
For a dose of culture and history, head to the Booth Museum of Natural History. Located near Student Castle, Brighton, the museum houses an extensive collection of natural history specimens, including fossils, bones, and insects. Founded in 1874, this museum has the largest collection of stuffed birds, insects, fossils, and skeletons
3. British Airways i360 Viewing Tower:
For a bird's eye view of Brighton, head to the British Airways i360 Viewing Tower. Located on the seafront, the tower is 531 foot tall and offers 360-degree views of the city. It's the perfect place before exploring Brighton. Opened in 2016, it is known as the world's first vertical cable car and moving observation tower.  The tower is also referred to as a "vertical pier" with a circular observation deck that can lift up to 200 persons for a panoramic view of the region and the English Channel. You can also find food, drinks, and gift shop at this tower
4. The Brighton Palace Pier: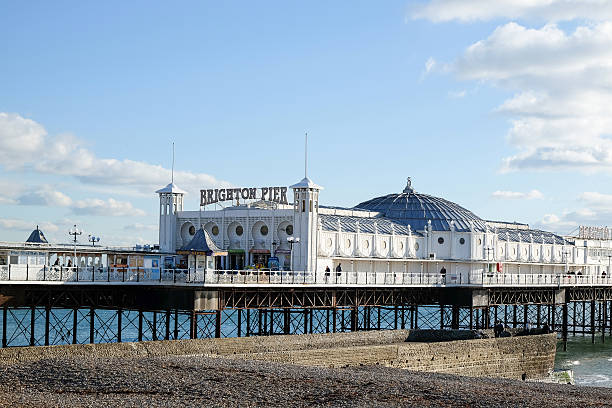 With its amusement arcades, joke stores, and fish-and-chip stalls, a trip to the seaside is not complete without a stop at a pier. Brighton's Victorian-era Palace Pier, with its magnificent ironwork and picturesque location, is unquestionably one of the most beautiful such monuments in the country.  Palace Pier, the only one of the town's three original piers still standing, rises out to sea like the upper deck of a steamship on spindly iron legs. The other pier was destroyed by a storm, while another stands abandoned near the beachfront. Brighton Palace Pier, which dates from 1891 and is 1,700 feet long from the shore, has retained all of its charms. The pier contains other entertaining activities, food, shopping, thrilling rides, and game arcades.
5. The Lanes and North Laine:
The Lanes and North Laine are the perfect places to spend a day exploring Brighton's independent shops, cafes, and restaurants. These two areas are full of character and charm, and there's something for everyone. The Lanes is a maze of narrow, winding streets lined with chic boutiques and independent shops in a former village. North Laine is home to Brighton's arts and counterculture scene. From vintage clothes to antiques, you're sure to find something unique in these parts of town.
6. The Brighton Wheel at the Brighton Beach:
For breathtaking views of the city, hop on the huge Brighton Wheel. Located on Brighton seafront, the wheel offers panoramic views of the city, the seaside, and the surrounding countryside. It's the perfect place to snap a selfie or two with your friends. The beach is also a great place to relax and take in the fresh sea air.
Brighton is a charming seaside town with plenty to see and do for students. From exploring the Royal Pavilion to riding the Brighton Wheel, there's so much to do in this vibrant town. So what are you waiting for? Visiting these spots during weekends or holidays will be great fun giving you a break from your student accommodation and university life.