Finance
Things to consider when applying for a commercial vehicle loan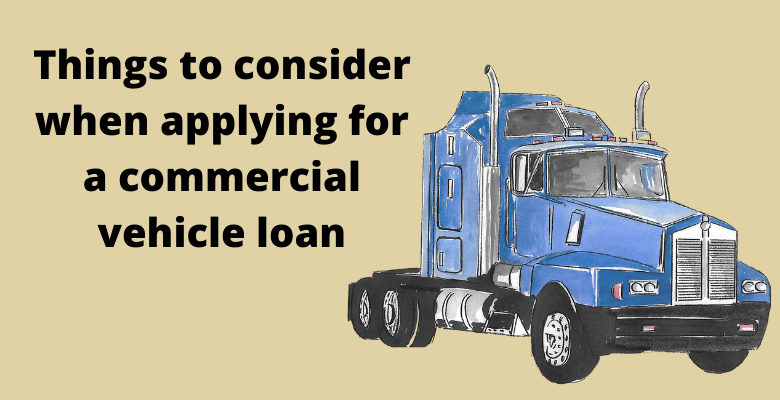 Individuals, partnership firms, proprietorship firms, HUF (Hindu Undivided Family), trusts, societies, self-employed, businesspeople, and private and public limited companies typically take out commercial vehicle loans to finance their needs for owning and operating commercial vehicles. We've all heard of mortgage loans, auto loans, and personal loans. Most of us are also aware of the purpose of these loans. However, only a few of us are familiar with commercial loans. Let us try to grasp the purpose of these loans, the documentation process, and who is eligible to receive them.
Borrowers of these loans are typically involved in the transportation industry. Buses, tippers, transit mixers, and any other heavy, light, or small commercial vehicle can be financed with a commercial vehicle loan. A commercial vehicle loan can be obtained for a range of business vehicles that will be used in various areas.
While loans for the purchase of a new commercial vehicle are available, banks also offer loans for used vehicles. Borrowers can also receive a top-up on current loans, subject to certain criteria.
Loan process
To obtain a business vehicle loan, the borrower must complete an application form and supply the required documentation. Proof of address (passport, ration card, voter ID), proof of experience in the relevant field, track record of previous loans, and six months bank statements are all required.
Borrowers would also be required to produce two years' worth of income tax returns, audited balance sheets, and profit and loss account statements. List of automobiles owned, along with copies of RC (registration certificate) books.
Who can avail of a loan?
Individuals and co-applicants can apply for loans, while partners in partnership firms and directors in private limited corporations can apply for a joint loan. Individuals' blood relatives can apply for a joint loan.
The smallest credit amount available to small players is Rs. 1 lakh, while the maximum loan amount available to large corporations is Rs. 5 crores.
Approval process
The loan is usually authorized within seven days of submitting the necessary documentation to the bank. However, depending on the form of the loan, the amount of money, and the location, the time it takes to sanction the loan may vary. Normally, the loan is disbursed straight to the vehicle dealer rather than the borrower by the bank or financial institution.
Loan amount & Tenure
The loan amount can vary depending on the exact need. Funding can extend to 100% of the chassis, and body funding can be expanded based on unique requirements and past experiences. The loan's term can range from six months to sixty months.
Interest rates
Not to mention Interest rates range from 10% to 15%, depending on the consumer and car category. The client segment includes self-employed individuals, corporations, businesses, and partnership firms, while the vehicle section covers a variety of vehicles such as trucks, buses, cars, and so on.
The rate is determined by a variety of parameters, including the borrower's car ownership, business turnover, payback history with other financiers, and so on. After studying the documentation, financial institutions can validate the rate of interest. The interest rate could be either fixed or variable.
What are the processing charges?
The fees consist of a processing fee, stamp duty, and car valuation charges. The processing fee is determined by the loan amount. It typically ranges between 2% and 4%. It is not possible to reimburse the processing charge. Stamp duty is generally 2% on loans up to Rs. 5 lakh, 3% on loans beyond Rs. 5 lakh, and 4% on loans over Rs. 10 lakh.
Repayment
To repay your loan, you must make monthly payments to the lender. The monthly installment is made up of principal and interest computed based on the interest rate specified in the loan agreement.
To summaries, the variables to consider when applying for a commercial loan include interest rates, additional costs, required paperwork, and loan length.