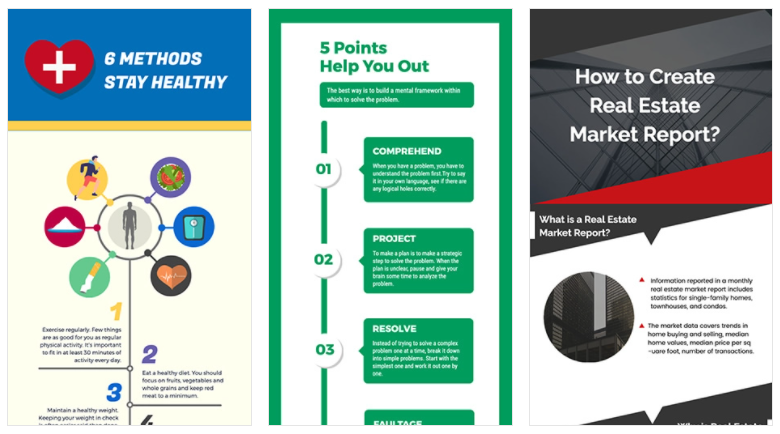 Do you know how to create infographics easily and quickly? Infographics are one of the contents that usually receive good responses from Internet users. Infographics provide information in an attractive graphical form to make data delivery more interesting and easier to understand.
If the information and data are only given in writing, you will get bored, and it may be difficult for you to digest the information. Have you ever made infographics for your content? Do you need a graphic designer? The answer is that you don't have to.
These days, there are many tools to make good and eye-catching infographics with ease on the internet. Even people who are not graphic designers can create infographics with these tools in just a few minutes.
The key to creating quick infographics is finding a solid template! You just need to find an attractive template and edit images, icons, or colors to your liking.
Pretty easy, right?
This time, we will share various tools to create infographics quickly and efficiently so that your content becomes more interesting and gets more responses.
1. DesignCap
DesignCap is a powerful online tool for graphic creation, even if you have no design knowledge. It provides many different templates for you, including Infographics, Presentations, Charts, Reports, Twitter Posts, Facebook Posts, Tumblr Banners, and more. Since you want to create infographics, let's take a look at the resources DesignCap has to offer.
You can select a preset design from a variety of templates. The templates are free, and you can edit and customize all of them. You can choose or replace elements such as icons and images with others that you upload yourself.
Once you've chosen your template (you can also choose a blank canvas to start with), DesignCap offers a variety of options, including standard icons, charts, maps, tables, images, and backgrounds. You can also upload images from your own computer and add them to your infographic design.
Finally, you can save and share as many infographic designs as you can through DesignCap, re-edit them online, or print them.
Price: Free to try
Payment Options: DesignCap offers two premium packages, and the price starts from $4.99 to $5.99 per month
Ease of use: Easy
Estimated design time: 10 minutes
2. Vengeance
Similar to DesignCap, Venngage offers several different options to choose from in terms of what you want to do. You'll find templates for various purposes, such as infographics, posters, reports, and promotions.
For making infographics, you'll also find additional options to choose which layouts relate to infographic themes and categories, such as Training, Process, Reason, Timeline, Geographical, Tutorial, etc.
Venngage offers a variety of templates for you to choose from (there are some that are free and some that require a Premium Plan to use)
Once you find a template you like, it's time to get creative! Venngage allows you to input what they call Widgets, including things like maps and charts based on specific information and data for your infographic.
Price: Free to try
Payment options: For a Premium plan $19/month or a Business plan $49/month
Ease of use: Easy
Estimated design time: 30 minutes
3. Pictochart
Piktochart is another great option for creating various types of infographics online. It lets you choose from several different formats, including infographic size (height and width), presentation size (for a collection of slideshows), banners, and reports.
You have the option to design your own infographic from scratch or choose one of the templates provided by them. Once you've selected your favorite template, you can simply drag and drop to add graphic and text elements to your canvas. It also enables you to upload your own photos to use.
Price: Free to try
Paid Options: Plans starting at $29/month
Ease of use: Easy
Estimated design time: 30 minutes
4. Easel.ly
Easel.ly makes it very easy for you to create infographics. When you get to the main page, you have options to choose one of the many templates they offer or start creating a new one.
Easel.ly provides a way to search through various lists of templates by category. Once you find a template you like (or even start from scratch), you'll be taken to a new page. Here you can edit the infographic however you like.
Easel.ly also provides various elements to edit your design, such as backgrounds, shape icons, text, graphics, and more.
Price: Free to try
Paid Options: Professional accounts from $4 per month
Ease of use: Easy
Estimated design time: 10-30 minutes
5. Visme
Visme allows you to create presentations, animations, mockups, banners, and of course, infographics. After logging into your account, you will see all your projects listed in the interface, while if you are new and haven't created any projects yet, this space will be empty.
You can click the "+Create" button to get started. You can freely choose the type of project you want to create to do this. After choosing the Infographics tab, you will see that some templates are free, and some require a premium account. Then, you can customize and edit the infographic you want with various features in Visme.
Price: Free to try
Paid Options – Pricing starts at $14/month
Ease of use: Easy
Estimated project time: 30 minutes
6. Create Infographics with Infogram
Infogram offers many simple infographic templates for you to use. After choosing a ready-made design, you can edit the elements on the page.
Infogram is a good choice when you want to create infographics with statistical sources. We personally found this tool quite challenging to use compared to some of the other options we mentioned in this article.
Price: Free
Paid Options: Premium plans are available from $25/month
Ease of use: Medium
Estimated design time: 30-45 minutes
Create Infographics now
Now it's your turn. Here are some tools and tips for creating infographics for your content.
Some of the tools we mentioned above are very easy to use to create beautiful infographics. We hope that these tools will help you create your own infographic.
Did you use any of the above tools to create infographics? Is something missing from the list above?