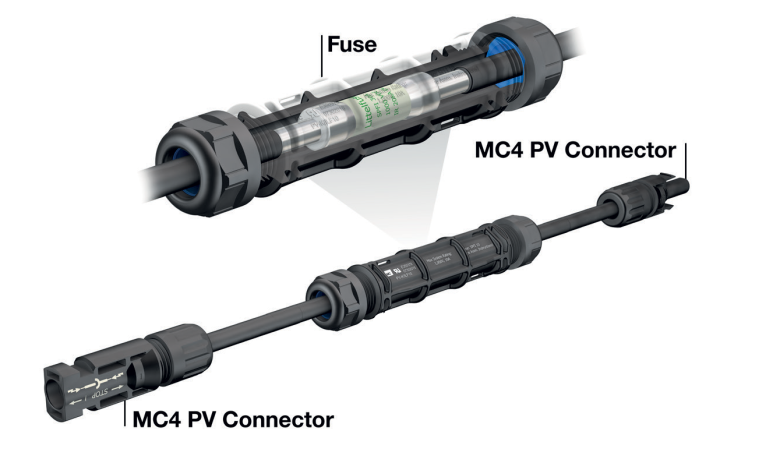 An inline fuse a protective device for electrical and electronic components and rated for circuits no higher than 50 volts. Non-automotives electrical and electronic products use fuses. A Cable connects a fuse and fuse box together. One cable connects to the positive power supply and the other connects to the device to which you are supplying power. 
Working 
The working of it is similar to other types of fuses: the heating effect of current. Whenever there is a short circuit in an electrical device or there is overflow of current, the wire in the fuse melts in the fuse because of the heavy currents flowing through it. Thus it disconnects itself from the main power supply. In normal operation of the circuit, the fuse acts as a negligible resistance and doesn't affect the flow of current in the circuit.
Types of fuses
There are major categories of fuses i.e. AC, inline fuse and DC. In DC fuses,typically metal caps terminates a glass envelope. Different variations in this kind include slow blow fuse and fast blow fuse. Slow blow fuses have a larger element that can handle overcurrent for a larger display or for a relatively short period of time. 
Automotive Fuses 
Automotive fuses run between 32 to 42 volts. There is a color code on them based on rated current and they are in blade shape form. Automotive fuses work in a direct environment. Automotive fuses ratings range from 32 to 80 volts with ampere ratings from 0.5 to 500 amps. The uses of these fuses are in cars, trucks, buses and off-road transportation equipment to protect the cables, wires and electrical components that supply electrical power to operate lights, heaters, air conditioning, radios, power windows and other electrical accessories. 
HRC fuses are AC cartridge type fuses consisting of a transparent envelope made of steatite. The fuse is filled with quartz powder and in the case of a liquid-filled HRC fuses, a non-conducting liquid like mineral oil that acts as an arc extinguishing agent.
2. Thermal Fuses 


Thermal fuses are used in settings which produce heat. The internal resistor blows when the surrounding temperature reaches a certain level and the fuse must then be replaced with a fully compatible new one.
Thermal fuses have both a holding temperature rating and functioning temperature rating, both measured in Celsius. The holding temperature is the range in which the fuse will hold without blowing. Thermal fuses can be found in domestic devices like coffee machines, tumble dryers and hair dryers.
3. SMD Fuses
SMD fuses are available in both resettable and non-resettable forms. Surface-mount fuses are widely used and recognized as a reliable inline fuse means for protecting circuits from fault conditions, particularly in consumer electronics where size and mechanical stability are critical. The extensive use of electronics in today's 'smart' and connected vehicles call for surface-mount fuses to protect these embedded circuits.These developments in the automotive industry are driving improvements in the reliability and performance of surface-mount fuses.
Difference between Inline fuse and circuit breakers
Circuit breakers are dead front whereas fuses have live exposed parts

Trip faster than a circuit breaker

Fuses are initially less expensive than circuit breakers.

Fuses have a small footprint in a cabinet cable

Circuit breakers have an On/Off switch whereas fuses don't have any of them.

Don't require regular maintenance while circuit breakers do require maintenance.

Fuses are simple and straightforward to use.

Fuses are initially less expensive circuit breakers.
Advantages and Disadvantages of Fuses
The advantages of fuses outweighs its disadvantages. Fuse is the cheapest type of protection in an electrical circuit. Fuse needs zero maintenance. Operation of the fuse is simple and not complexity. It offers current limiting effects under short-circuit conditions. Fuse has the ability to interrupt enormous short circuits without producing flame or smoke. It affects current limiting effects under short-circuit conditions. For overload protection, we use fuse inverse time characteristics.We can easily replace fuses. It is a small piece of thin wire or metallic strips of electrical equipment that melts when overflow of current.
The disadvantages of inline fuses are not many. Fuses are replaceable but will take time. They are difficult to distinguish among each other in series because they are of almost same sizes. They are slow as compared to speed breakers. Fuses are not suitable where there is a use of heavy electrical equipment. It can't bear a surge current in the starting. Fuses cannot protect the circuit under voltage. Fuses don't respond to high voltage. It only cares about current flowing and is not likely to melt or save the house in case of a direct lightning strike. 
Uses of fuses
Fuses protect cables in low voltages, light, and power circuits and for transformers of rating not exceeding 200 KVA, in the primary distribution system.They are best for use in low and moderate voltage applications because there is no need of circuit breaker or frequent operation.There are 3 reasons we discuss below why we use fuses in electrical and electronic components.
The first reason is safety. We have expensive electrical appliances and other electronic devices in our house and it can cost us a huge amount if it short-circuits or burns out by a surge of high voltage or high electrical current. The second reason is cost-effectiveness. Fuses are the most effective way of protection against overcurrent. The third reason is reliability which means they need no moving parts to wear out or become contaminated by dust or oil.
Conclusion
In this article we discussed fuses and their different types. The differences between fuses and circuit breakers and where one can't be replaced to another. The advantages and disadvantages of fuses were also listed and completed in detail.